Italian passion and German thoroughness: the best ingredients for the perfect group travel organizer in Italy.
Today you will discover a success story by reading this interview with Angelika Colombini-Maier: the founder of Blu Garda Tours, an incoming travel agency which is specialized in group travel in Italy with a focus on the tourism destinations of Lake Garda, Tuscany, Liguria, Emilia Romagna and Piedmont.
As native-born in Austria, Angelika started out her long-standing career in the tourism sector leading a family hotel in her motherland. Therefore she is familiar with every facet of the hotel management and introduced later these hospitality industry skills in her travel agency. Blu Garda Tours is a travel company with deep roots in Italy which can offer this added value to the german-speaking market.
How it all began: When and how was your incoming travel agency founded and how did you develop as group travel organizer in Italy?
I moved from Austria to Italy, precisely to Salò in 1991 where I worked as Sales Manager in a big hotel chain taking care of the german-speaking customers. In my role I pioneered the way to the promotion and sale of organized group tours and excursions on site. After 12 years, namely in 2007 I set up my own business.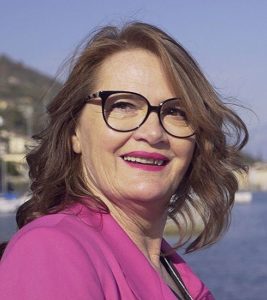 My long-standing hotel experience is paramount in our incoming travel agency Blu Garda Tours. Still today, every group is welcomed personally by my staff members and not merely sent to the hotel room after an impersonal welcome cocktail.
Thus we are currently paving the way to customer loyalty and retention. Our guests can feel authentic and warm Italian hospitality from the very beginning. They perceive to be in good hands.
Moreover we place great value on our qualified and motivated tour leaders. They carefully lead our guests from A to Z and they inspire them with exciting stories, legends and peculiarities. Guests are not bored with the dull and monotonous explanations.
The human contact towards our travelers creates a sort of trust that as a result mirrors the relationships with german-speaking suppliers and Italian in-destination providers.
The world has changed a lot since then. How can you reconcile the new market requirements and the earliest values of your business?
Clearly, the world has changed since 2007. We keep our features as original group and organized travel specialists but as an in-destination agency we set higher demands on experiences.
Discover, relish, experience: the perfect recipe for an authentic group trip. Travelers would like to discover at first hand how local people live, what they particularly eat and deepen their stories.
Culinary delight is at the forefront. We organize high-quality experiences such as wine tastings and cooking classes etc. Italy is a multifaceted country: every region boasts its food & wine peculiarities. Sale events are unwanted. Everything is organized in a cozy atmosphere. We would like to hear from our guests: "this delicacy, this tradition or this anecdote was still unknown to me". That's why we prefer uncharted places and exclusive experiences above all.
Your travel business as a group travel organizer stands out as contact partner for group trips from the german-speaking market to Italy. How can you foster relationships with the foreign suppliers and Italian providers?
We are aware of our responsibility and we test our offer personally. It's the people behind the product who make the difference.
Our hotel references consider us as a trusted partner because we provide them with low cancellation and high occupancy rates. We only work with carefully-chosen 4- or 5-star hotels, with whom we have been fostering long-term cooperation and partnership.
I also know the german tourism bus companies personally. They often visited us at Lake Garda and during tourism exhibitions and they rely on us. Personal quality control plays a leading role in the process.
The balance between deep roots in Italy and German "Weltanschauung" is definitely a fascinating aspect. How would you describe this advantage to your business?
We plan painstakingly group tours in Italy. As a group travel organizer we would like to offer exactly what our guests are expecting and what we promise. When the Italian passion comes into play we can go beyond that and exceed their expectations.
The Italian vitality combines perfectly with our german thoroughness and flawless organisation. It is a nice blend and it is well perceived indeed.
Can you give us an example?
From the beginning I have set new rules and standards in hotels concerning breakfast and salad buffet for german-speaking guests. it sounds insignificant but it wasn't a superfluous detail to them.
Additionally, our skilled tour leaders are trained to support perfectly our german-speaking guests and they are involved in the in-destination cultural landscape as local ones.
These reliable skills combine with the Italian enthusiasm. The travelers would like to discover something they don't have at home.
How do you see Blu Garda Tours in 10 years? According to you which are the main challenges that will be outlined in the future?
In the future we would like to preserve our expertise and nativeness as main group travel organizer for our german-speaking clients but at the same time we are aiming at placing value on experience, local food & wine, nature and active tourism.
Another priority that will be defined in the future is sustainability. During this time we have dealt much more with responsible travel and we try to contribute in our small way to environmental protection. In the future we would like to commit ourselves to welfare partnerships too.
In 10 years I can see a dynamic, digitized and eco-friendly incoming travel agency.
Finally I would like to bring forward a key message: travel and experience are a core element of our life. We work passionately and committedly because we don't want to do anything other than offering unique experiences and memories in our country, Bella Italia.
Click here to discover Blu Garda Tours travel offer, the leading specialized group travel organizer in Italy for german-speaking suppliers!